In honor of the upcoming Presidential debate at the University of Denver (my alma mater!) The only movie debate reference that comes to mind:
http://www.youtube.com/watch?v=_yYDzLUH1NE
The Presidential debate is big news here, traffic is shutdown right in the heart of Denver, at the height of rush hour, so that should be fun (light rail is still running though!). In Cherry Point, we're likely to see a spike in traffic as Hampden is the southern closure – here is the 9news' route planner for any intrepid travelers.
The debate is great exposure for Denver and the University with tons of national news coverage!  These types of events only serve to raise the profile of Denver on its long journey from cow town to world class city! All the big networks – CNN, Fox News, ABC, NBC, CBS, PBS – have set up shop on campus and a very big fence has been erected to keep people out.  Mitt Romney is in town already, visiting Chipotle for lunch on Tuesday (he should have hit Chipotle Store #1 next to DU!). This photo from his visit almost made me fall out of my chair laughing: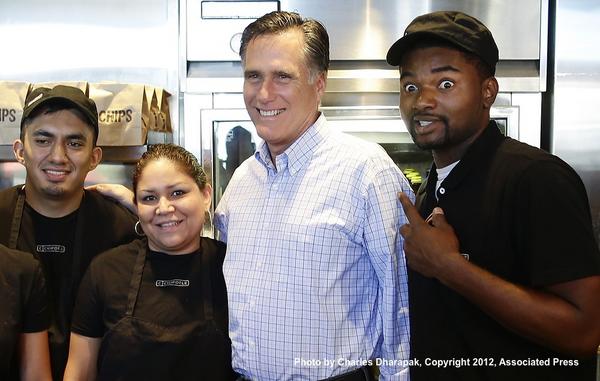 At home we are having a bit of debate as well – should we walk over to the RTD Southmoor Station and take the train to  DU (just 3 stops away) to witness the chaos??  Maybe put the boys in a tails and top hats to do some real debating – Lincoln/Douglas style – although I'm not sure  America could handle a similar debate style:
The format for each (Abraham Lincoln/Stephen Douglas) debate was: one candidate spoke for 60 minutes, then the other candidate spoke for 90 minutes, and then the first candidate was allowed a 30-minute "rejoinder.